Build Your Own Arcade Controls

Colin's Arcade Joystick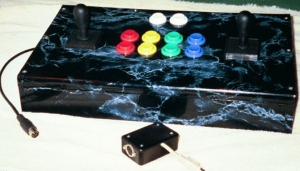 Here's my recently completed joystick and keyboard splitter. The joystick was designed to work with my favorite games: Street fighter (two rows of three buttons), Smash TV/Total Carnage (dual sticks), and the NeoGeo (four buttons in a row). The guts consist of Happ Ultimate joysticks and buttons. The keyboard hack was done with a very cheap ($12) keyboard from Staples. The outside of the case is covered with the oh-so-popular black marble contact paper.

The splitter was based on Stephan Hans design, but I tried to make it as small as possible. The input is a PS/2 connecter but the outputs are old style keyboard connectors. This took me a SUPREME amount of effort to make due to my hideous soldering skills. I am rather proud of the results though.

Tips for people starting a project
1 Read everything on saint's page and spend some time on the message board. The message board especially has very kind and helpful people frequenting it.

2 Get some small diameter solder. I can't stress this point enough. If you get the huge stuff they sell at Radio Shack you are going to have a much harder time. I personally destroyed two Sidewinder pads and blew out the joystick port on my Soundblaster Live futzing around with that junk. Once I got some real tiny stuff from a friend I was soldering like a pro. Makes me wish I could go back in time and save myself a lot of dough.

3 Diodes will not solve all your problems. This was the impression I got from reading the available information. Diodes seem to solve the problem of "ghost" keypresses, but they don't solve key blocking. I originally had my 8 main buttons set to ASDF and ZXCV. I was really disapointed when the NeoGeo charge moves where you hold down 3 buttons wouldn't work. With a lot of testing I managed to get the arrow keys on the main stick, 7 of the 8 main buttons to work simultaneously along with any direction on the main stick, and both sticks to work together in all directions. And this is while using only letter keys for maximum compatibility. (There, I'm done patting myself on the back) I'd suggest people map out their matrix and pick buttons that shouldn't ghost or block, then test out the layout with the very helpful program, KeyScan.

4 Once you finish your joystick get yourself a keyboard extender cord so you can get away from your computer. Playing with it on your lap really sucks; you've really got to put it on the ground or something else low and stable so you can really pound on it!

Well, that's about it. Anyone who thinks I might be able to help them can feel free to email me at bonstead@wsu.edu.