Build Your Own Arcade Controls

Achilles SNES hack!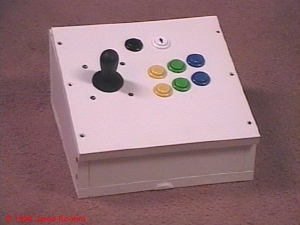 (Click for a larger view)
Achilles sent me this project to share with everyone. Thanks Achilles!

What you're looking at is a modified Super Nintendo Controller! It plugs into the connector I built for my parallel port and features 8 Happ Horizontal Microswitch buttons, (6 for the actual games, and 2 for start and coin,) and a Happ Super 8 joystick, (which I'm VERY pleased with I might add). The box and control panel are made from 3/4" shelving material that I found at Home Base for like $6. The cool thing is that I didn't have to cover it with anything! I'm in the process of building another one of these contraptions so that two people can play, or you could stick them side by side for 2-joystick games. The connector I built for the parallel port supports up to 5 SNES pads so maybe down the road I'll build a couple more for some serious Simpson's action!
| | |
| --- | --- |
| (Click for a larger view) | (Click for a larger view) |
| Inside the joystick | Closeup of the SNES-Pad guts |
I thought I'd share this with you guys as I know everyone is looking for ways around the "ghosting" problem with keyboards, and I believe that the Parallel port is the answer. It also works great on my laptop!

Sweet and simple - looks great, thanks Achilles!