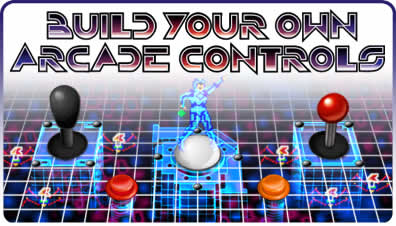 Welcome guest! You are not currently logged in.
What's new today?
Last remaining CRT monitors from X-Arcade

April 19, 2017, 09:26:11 am


Received an email from X-Arcade today that they expect to sell out of their remaining stock of CRT monitors shortly.

"LIMITED CRT MONITOR AVAILABLE

The CRT featured in our arcade machine is no longer in production and we are down to the last remaining inventory. We should be running out by end of this month, so if you wish to own an authentic CRT monitor, please order immediately! We will shift to an LCD once our remaining stock is depleted. No companies are willing to produce any more CRT arcade monitors. First come, first serve."

https://shop.xgaming.com/products/x-arcade-machine-cabinet-with-250-arcade-classics?_ke=c2FpbnRAYXJjYWRlY29udHJvbHMuY29t


1 comment
Submitted by saint
---
RatRefresh 0.1 - Automated EDID updater for MAME and others

January 12, 2017, 04:43:32 pm


I've put up a small tool that might aid LCD users to prevent tearing when gaming. We all know CRU can update your EDID settings, but that does not have command-line support. That makes it quite inconvenient to change your refresh rates for every single game you play (especially on MAME).
I have created RatRefresh to help with that. It's a simple tool that allows you to update EDID settings from commandline. What can it do?



Quickly switch to a specific refresh rate from command-line
Automatically switch to the correct refresh rate for any MAME game
Allows you to enter refresh rates for any emu / game / application


So this might be ideal for your LCD-powered MAME-cab! Check it out here.

[Fixed link. -- Scott]


0 comments
Submitted by Rataplan626
---
mGalaxy v6.2 released

December 24, 2016, 05:32:22 am




What's new!



New "Presenter" theme added.
mGalaxy_Runway : Database > Hidden items can be restored to 'Visible'.
mGalaxy_Runway: Database > Show/hide Hidden items (displayed in a different text format)
mGalaxy_Runway: Database > Show/hide Missing items (displayed in a different text format)
mGalaxy_Runway: Database > New database server added.
mGalaxy_Runway: Database > Media download extended to movies, clear logos, fan arts.
Game description cleaned up from parenthesis and brackets (and their content) [Option]
Game list animation when scrolling [Option]
Game list with logo images (for compatible themes) [Option]
mGalaxy_Runway: Mame database creation further simplified: "Catver.ini" & "nplayers.ini" automatically downloaded when missing.


More info and download on http://www.mgalaxy.com




0 comments
Submitted by mgalaxy
---
Use an Arduino to de-suicide a CPS2 board

September 13, 2016, 11:52:18 am



Dear all, after a few months of testing we are extremely happy to release the new clean desuicide / security programing method for Capcom's CPS2 hardware.

This guide is the result of almost two years of work by an small group of arcade enthusiasts to unravel the secrets of the security implementation found in one of the largest and most popular arcade platform systems. Thanks for this work it is now possible to fully preserve any CPS2 systems as original hardware.

Over the coming weeks additional details about the CPS2 hardware internals will be released providing unseen insights into how Capcom implemented security.


More details, PDFs, step by step guides, and and video at the link.

http://arcadehacker.blogspot.mx/2016/09/capcom-cps2-security-programming-guide.html?m=1


5 comments
Submitted by saint
---
Holy cow! Are we up? We look up! Are we really up?

August 22, 2016, 07:35:32 am


I *think* we're up! I'm going to leave the server in maintenance mode for a while, possibly all day, while I make sure we're reliably up and stable and that everything's working. I'm positive there are things that aren't working yet, for instance the wiki. However, the main site and forum appear to be online. Thanks for bearing with me folks while we worked through our outage.

What happened?

The hard drives in the RAID configuration on the old server died, one at a time. We replaced them, but somewhere in the replacing we lost the boot partition, and despite the fact that it should be relatively easy to restore, we could-not-get-it-to-boot again.

Since the server was 4 years old at least, we had already been contemplating upgrading to a new box, so took the time to do so. We still had access to the old server's drives via a rescue boot environment, so migrating was doable.

It took a bit to get the new server online and configured, primarily because I used the transition as an exercise to improve my server administration skills with Linux.

The final snag was the version of the Ubuntu we're running on the new box doesn't support the version of php SMF requires, and SMF isn't upgraded for the new version of PHP yet.

Got that resolved this morning, and now it's hopefully just a matter of troubleshooting various quirks and settings until we get everything resolved.

BIG THANKS to sirwoogie for holding my hand through this process and helping teach me to fish!

Several of you have offered your time or financial donations to help. Thank you, thank you, I very much appreciate it. In the future I won't be shy about accepting offers of expertise.

As for financial donations, thank you for the offers, but please consider donating to charitable organizations or those in need such as relief for the Louisiana flooding victims.

BYOAC/arcadecontrols.com is my way of giving something back to the community. There's such a wealth of knowledge and resources out on the Internet, and BYOAC is my way of being a small part of that. Maintaining the server is within my means, and as long as there's any interest in what BYOAC hosts, I'll continue to keep the server online.

Thank you for your support!

--- saint



40 comments
Submitted by saint
---
mGalaxy v6.0 release

July 10, 2016, 04:39:18 am




Incredible amount of new features into v6.0!!

• Automatic script handling.
No more need to handle scripts installation! No more need to worry whether an emulator needs a script or not to work, mGalaxy will manage it by itself!
• RetroArch added to available systems.
• Command window hidden.
The command window may now be hidden when the emulator is launched (for systems allowing it, like 'Mame' for instance)
• Uppercase and lower case rom file extensions are now allowed.
• Screensaver/Attract Mode.
• Theme switching (Premium).
Set one (different) theme per system.
• Localization (French, German, Portuguese for now!).
• mGalaxy_Runway system creation setup revised.
You now drag and drop the system you need (as many instances as you want) to build your system list (this would allow you, for instance, to create 3 different MAME systems!)
• Systems window: filtering on arcade/computer/console.
• mGalaxy_Runway: box/marquee images support (for themes allowing this functionality).
• Scroll speed setting.
Let you define the scrolling speed of the list when direction keys are held.
• Pre-Launch settings.
Allows you to launch another application/script/document before launching game (for instance, to auto load map to 'Ultimarc Ultrastik 360')
• Child lock (per key/button).
When set, the key/button has to be held for 3 seconds to run.
• Compatible with every screen resolution (e.g. 640x480px).
• mGalaxy_Runway: database creator (with resume functionality).
• mGalaxy_Runway: database editor (Premium).
• mGalaxy_Runway: data/media export (database, favorites, roms, snaps, boxes, videos).
• Multiple monitor support.
• Command Help panel.
Displays all the actions available and their corresponding key/button shortcut
• mGalaxy_Runway: Mame database creation updated

Spread the news !!
More info and download on http://www.mgalaxy.com






2 comments
Submitted by mgalaxy
---
Arcade Game Review Database

July 01, 2016, 02:32:34 pm


I have decided to open up a project I have been working on for many years... it's abut 80% complete but functional. Basically, in about 2013 I began developing an arcade game rating and review website...

I have put many many (did I mention many) hours in to this project... as well as more than a couple hundred bucks... and it was looking like it would never see the light of day. Basically ... I burned out. For the last year it sat. This year, when the domain name came up for renewal... I decided I was going to put the damn thing online and see where it goes. If it sees moderate success, I will buckle down and complete it.

Essentially all letters have been populated minus the letters S and T. Unfortunately... there are "A LOT" of S and T games. That said, the names are there, just the data within each record hasn't been added. It's a long tedious job... but one I am willing to do if the site is used.

I really think that it could become a useful tool for collectors if we get enough participation from the community. Basically, it will become what the community makes of it.

I am still working on a bug or two that cropped up when multiple people started reviewing, but they'll get handled. I am also open to suggestions, etc.

Feel free to take a look and if you'd like to help the site reach it's potential, sign up and review a few games!

Thanks!

www.arcadedatabase.com




9 comments
Submitted by FrizzleFried
---
Classic arcade game documentary 'Man VS Snake' released to the public

June 24, 2016, 03:43:15 pm


The long-awaited (? ) video game documentary Man VS. Snake: The Long and Twisted Tale of Nibbler is now in wide release. Kickstarter backers of the film were able to obtain a digital copy on Thurs., June 23 with the general public's wide release on Fri., June 24. The movie has previously only seen limited screenings at film festivals since September 2015, winning numerous awards along the way.

The latest film to take place in the world of high score champions on vintage arcade game, Man VS Snake focuses on the story of Iowa's Tim McVey. In 1984, McVey became the first video game player in history to score over 1 billion points of a video game as he toppled Rock Ola's Nibbler in an Ottumwa, Iowa video arcade. For his accomplishment, he was awarded with an arcade game, the key to the city and the first and still-only civic day named in honor of a video gamer.

However, one day in the 21st Century, McVey learns that his score was apparently beaten just months later by an overseas player named Enrico Zanetti...

More ...


1 comment
Submitted by saint
---
Let's Play Gaming Expo 2016 JUNE 18 and 19- THIS WEEKEND

June 16, 2016, 12:29:12 am


Posted this over on KLOV but realized I was an oaf and it had not been posted here (POSTED THIS UNDER GENERAL AS WELL).

Just thought I would plug this. We'll be there this year again with the arcade. Hope to have a 100+ working games this year.

https://www.letsplaygamingexpo.com/

SINCE last year, added Astron Belt, Galaxy Ranger, Tailgunner, dedicated Wild Gunman, Sea Raider, Stunt Pilot, Tapper, Ninja Warriors, Dig Dug, TRON, Frogger, Vanguard, Liberator, Starship 1, Star Trek TOS upright, Guwange, Death Race, In the Hunt, , Turkey Shoot, and a bunch more I'm forgetting. Our total should rise from 78 last year to over 100 this year (including 8 pins I believe). Most of the Rogue Synapse homebrews will be there including STARFIGHTER (the TOS sim will not be there this year as it's being built into it's final enormous cabinet). There are customs/skins as well including Splatterhouse, Evil Dead pin, Guwange, Wild Gunman, and Ultraman.

The contests this year include Galaga. The high score for the weekend WALKS AWAY with a cabaret GALAGA (60-in-1). Awesome little machine recently shopped out.
THAT'S RIGHT, THE HIGH SCORE WILL WIN A 60-IN-ONE CABARET SKINNED AS GALAGA. Was tempted to add the little guy to my collection when completed . . .

JOHN NEWCOMER will be there speaking and will oversee a head-to-head Joust competition, perhaps challenging the victor to a game. Pretty damn cool! We will have (hopefully) 2 tournament upright Jousts, Joust cocktail, Joust 2 and Joust pinball. That makes 5 titles of his there (Joust, Joust 2, Sinistar, Turkey Shoot, and Narc).
THAT'S RIGHT, YOU MAY GET A CHANCE TO PLAY JOHN NEWCOMER AT JOUST OR WIN A SIGNED JOUST ARCADE POSTER.

Tons of console stuff, board games, vendors, and cosplay as well.

Here is a link to a walkthru from last year. Most all the games shown will be there (a few have gone down this week and are problematic, Black Tiger will not be back as this was last years prize).

https://www.youtube.com/watch?v=j5539jBbZbE

Come find us in the arcade if you get a chance to drop by the expo. Many of the attendees are console crowd so we'd love to add more arcaders to the mix.

Doc


0 comments
Submitted by eaviii
---
Upcoming Gaming Conventions

June 09, 2016, 08:06:35 am


Two upcoming gaming conventions!

There are two upcoming gaming conventions you may want to go check out. In Georgia, the Southern Friend Gaming Expo is this weekend, June 10th - June 12th.

"The Southern-Fried Gameroom Expo features more than 250 arcade, pinball and console machines, the third annual Southern-Fried Pinball Tournament, tabletop gaming, a vendor expo, exciting programs and guest speakers, movie screenings, and other special events."

Learn more at http://www.southernfriedgameroomexpo.com/.



Then the following weekend, the Let's Play Gaming Expo takes place in Plano, TX on June 18th and June 19th with a special guest!

"An Interactive Video Game Convention with Vendors, Arcades, Tournaments and much more! LPGE is packed with tournaments this year, including an epic survival tournament on the classic arcade game Joust. Competitors will face off against each other on the hardest setting and with no extra lives. The eventual winner will then compete against John Newcomer – the creator of the game – head-to-head!

Do you have what it takes?"

https://www.letsplaygamingexpo.com/





0 comments
Submitted by saint
-=-=-=-=-=-=-=-=-=-=- Old front page news -=-=-=-=-=-=-=-=-=-=-
Owned, maintained, and copyrighted by John St.Clair (saint), with help from server and forum guru sirwoogie.