Midway 90411 Power Supply
by Bob Roberts
The Midway 90411 linear power supply can be repaired & updated with parts of the current era, as can many of the other linear power supplies. While the huge axial filters of yesteryear are no longer available the newer radials at a quarter of the size can do the same job. All you need to add is wire to extend up from the pcb.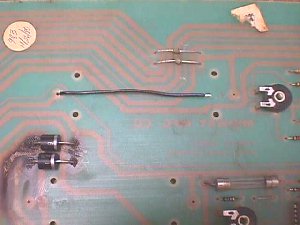 In the pic above you can see the first ground wire that I added in for replacing the 10,000 uf cap & also a typical problem with the diodes D4 & D5 for the +5 volts... an overheated & burnt pcb. I had already replaced the OEM diodes with the 6A1, 6 amp 100 volt heavy duty diodes that will hold up under the load.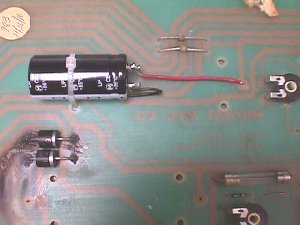 After adding the red wire for the positive (+) side of the cap to the + thru hole in the pcb it can be secured in place with 2 4" cable ties through 2 of the existing holes.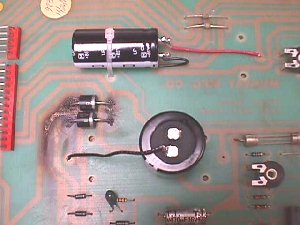 Repeat for the 20,000 uf axial cap replacing with a 22,000 uf radial & securing with 2 cable ties.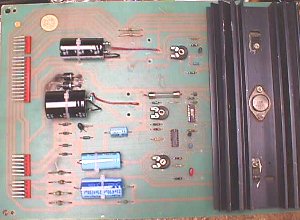 The other smaller axial capacitors are still available today along with most other common failure parts.... after 20 plus years of service. Below is a layout map of the 90411. You can get individual components from the Parts Page as needed & I'll make up a parts kit & list it below. The kit should work for many of the common failures on other Midway linear power supplies, as well.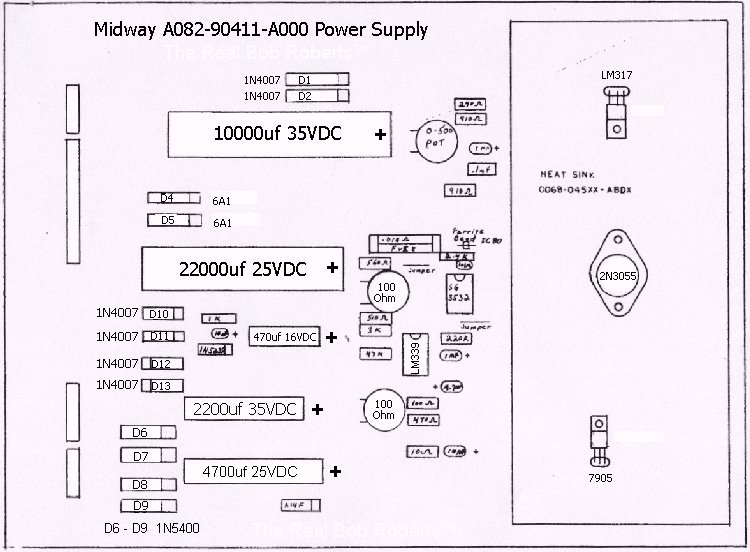 90411 Repair Parts Kit

Qty

Description

Value/Part#

1

Electrolytic Capacitor

470uf16v Axial

1

Electrolytic Capacitor

2200uf 35v Axial

1

Electrolytic Capacitor

4700uf 25v Axial

1

Electrolytic Capacitor

10,000uf 35v Radial

1

Electrolytic Capacitor

22,000uf 25v Radial

6

Diodes D1 & D2 D10-D13

1N4007

2

D4 & D5

6A1

4

Diodes D6-D9

1N5400

1

Quad Comparator

LM339

2

Trimmer Pots

100 Ohms

1

Voltage Regulator

LM317

1

-5 Volt Regulator

7905

1

Transistor

2N3055

8

Cable Ties

4"

2

18ga Wires 1 red 1 black

12"
The parts kit can be used with the 90414 as found in Galaga with a few parts left over, but their is no -5 volt regulator, so in that position a TIP31 will be needed.